Latest News
9 January 2011:

Just like in former years the participants list contains more than 130 (actually 146) names. From now on a subscription stop is announced. This means, that new subscribers are placed on a waiting list and in the first week of May, these people will hear from me if they can participate in the tournament.

Of course, it is possible to come to Salou for a good holiday, and maybe you are lucky and can play; in former years some people came to Salou, not knowing if participation was possible and after all they could play.
In the last three weeks before the start of the tournament in 2009 there were 23 cancellations. It can happen again, who knows.

On the actual list are 146 names from 21 different countries.
Only 14 players don't have any FMJD-rating. The other 132 have an average rating of 2054, which is pretty high.

24 >2200
57 2000 - 2200
51 1700 - 2000
14 0

If you want to see the complete list, and you want it to be sorted in several ways, have a look at this link: http://fmjd.org/salou/ (thanks to Alexander Presman!).

I write this more than 4 months' before the start of the tournament. I'm very positive that Salou-2011 will be a great event.
In this years' tournament it is for the first time somebody from Haiti will play and three players from Burkina Faso. The man from Uganda, who participated in 2010 for the first time will come again and he brings a colleague. From India the two young girls will participate again.
As main referee is for the fifth time Johan Demasure from Belgium. He will be assisted by Francis Huijsen from The Netherlands.
<![if !supportLineBreakNewLine]>
<![endif]>
In other years the percentage of players from The Netherlands was about 60%-70%. In 2010 this was 51% and at the moment this is 56%. Salou is a real INTERNATIONAL tournament, in which people from all over the world participate.

I'm looking very forward to the tournament, which will start at Sunday May the 29th.


Peter Pippel
(Organiser of Salou-2011)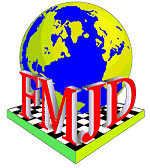 <![if !supportLineBreakNewLine]>
<![endif]>

All rights salou-open.nl